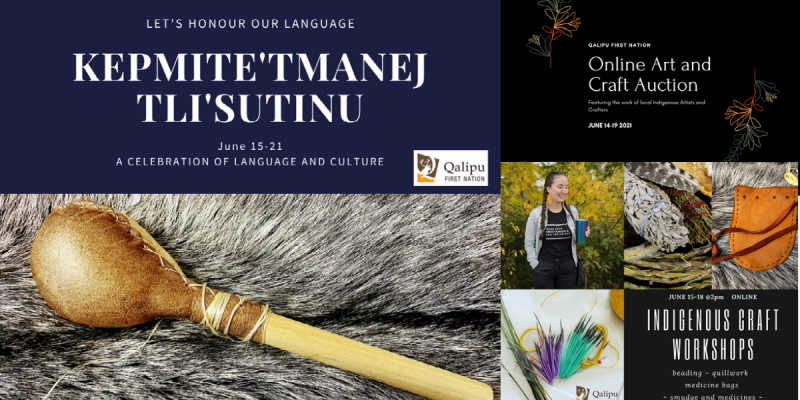 Kepmite'tmanej Tli'sutinu – "Let's Honour Our Language" Festival
Join us June 15-21 for a celebration of language and culture leading into National Indigenous People's Day!
Each day from Tuesday June 15-18 there will be an online craft session (registration details below) daily from 2-4pm as well as an evening language session with our resident language specialist Dean Simon from 7:30-9pm. On Saturday June 19, we will hold a family day on the Majestic Lawn in Corner Brook, where families are welcome to gather for language puppet shows, and crafting demonstrations. Sunday will be a celebration of Father's Day with online tributes and storytelling. As a finale, we will hold a day-long online event to celebrate National Indigenous People's Day with community partners.
Throughout the week you can look forward to an online art and craft auction, a radio show with Dean and Susan O'Quinn, and more!
Included in this week is an opportunity for families to get a "Kids kit." 150 kits are available, registration is required!
MORE DETAILS TO FOLLOW!
Craft Registration here: https://www.surveymonkey.com/r/NW6XC9Y
Kids Kit Registration here: https://www.surveymonkey.com/r/NXQSXLH
Want to sell your craft in the auction? Register here: https://www.surveymonkey.com/r/N5WVFYL
Want to be a vendor in person on Family Day? Register here: https://www.surveymonkey.com/r/NZMNDFC