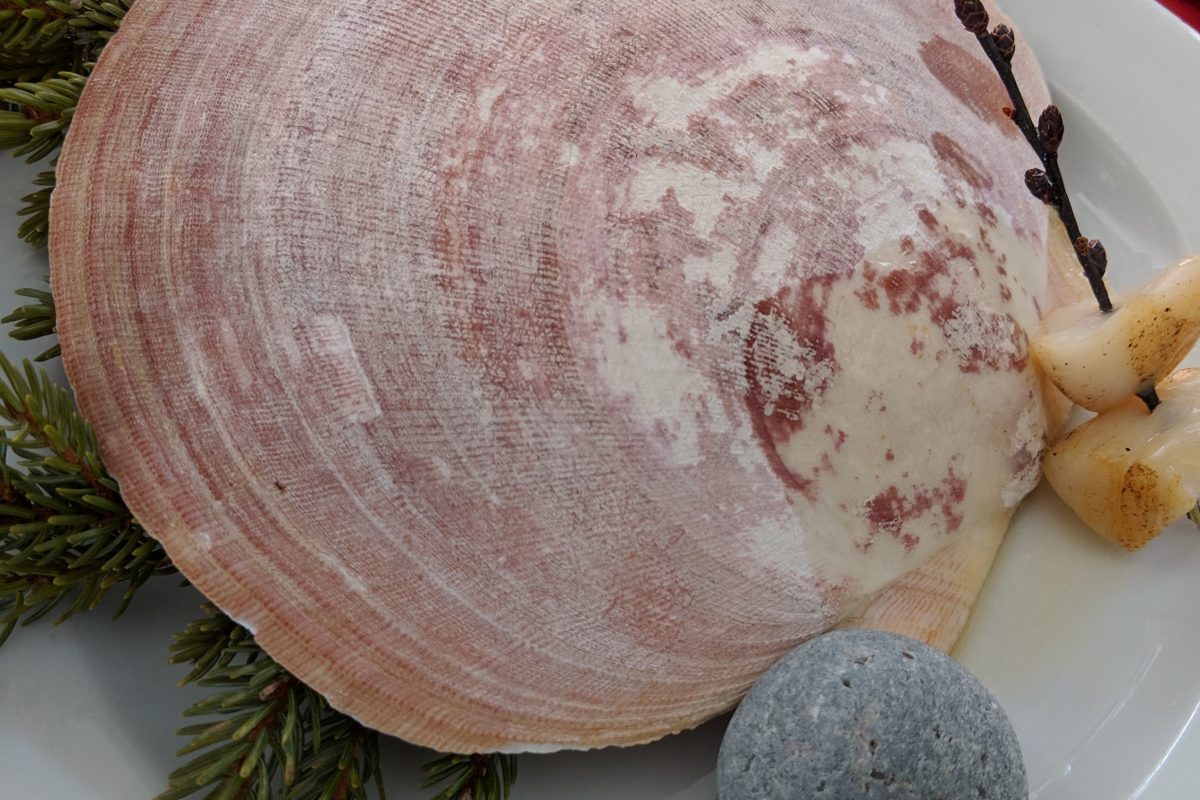 Creating Culinary Experiences
Perfectly cooked scallops were served glistening with oils and citrus juices on a sprig of Sweet Gale, also known as Bog Myrtle. Next to the scallops, a little cut of spruce bough, a small smooth stone, and a scallop shell. It's lunch time at the Qalipu Business Forum and this years' theme is culinary experience development.
Through presentations and hands on experiences, delegates at this years' event are learning about culinary themed business ventures or add-ons, and picking up new tips and techniques around the simple act of feeding people, like how to build story and intrigue into sharing the local foods that are part of our culture. Food, and experiences involving food, are a hot trend in tourism today and holds the promise of self-employment opportunities for people in our communities, or added value to new and existing businesses and tourism related ventures.

Lori McCarthy leads the diners through an experiential lunch. Lori is a small-town girl who grew a big dream in this province with her business, Codsounds. Through this tourism venture, Lori takes visitors out to the beach near her cabin in Middle Gull Pond where they forage for fresh produce (think kelp and 'weeds' that are actually edible) and she cooks fresh fish and other delicious fare over an open fire. Lori involves her visitors in the preparation of the food, and she tells stories that help give people a sense of this place, and the people who live here.
McCarthy asks diners not to eat the scallops yet. She guides them to make something first, to be a part of the food preparation by creating their own seasoning. Around the tables, each takes a turn dipping their fingers into the little dish of sea salt and gathering a pinch to add to the scallop shell along with the 5 or 6 little buds they've plucked and placed there from the sprig of Sweet Gale.
Diners are asked to grind the ingredients together with their little stone and scallop shell, a makeshift mortar and pestle. Around the room the senses are awakened with the clatter of rock against shell, a new fragrance, curiosity, laughter, and fun. Once the seasoning has been made, diners sprinkle their creation on the scallops and for those who love seafood, they delight in the long anticipated first bite.
The lunch also featured fish stew, probably just like your grandmother made if you're from Newfoundland, but with the peels still on the potatoes to demonstrate the lesson of sustainability and using the whole plant, or the entire animal. The broth is simplicity at its finest, potato, cod, onion and a dash of savoury.

Dessert, CNA Head Chef and cooking instructor D'arcy Butlers choice, takes us back to the old May West cook book found in so many Newfoundland kitchens. A simple cake with blueberry sauce that reminded him of what his grandmother would always make.

Qalipu partnered with the College of the North Atlantic and the cooking school program with instructor D'arcy Butler. The students were involved in all stages of food preparation.